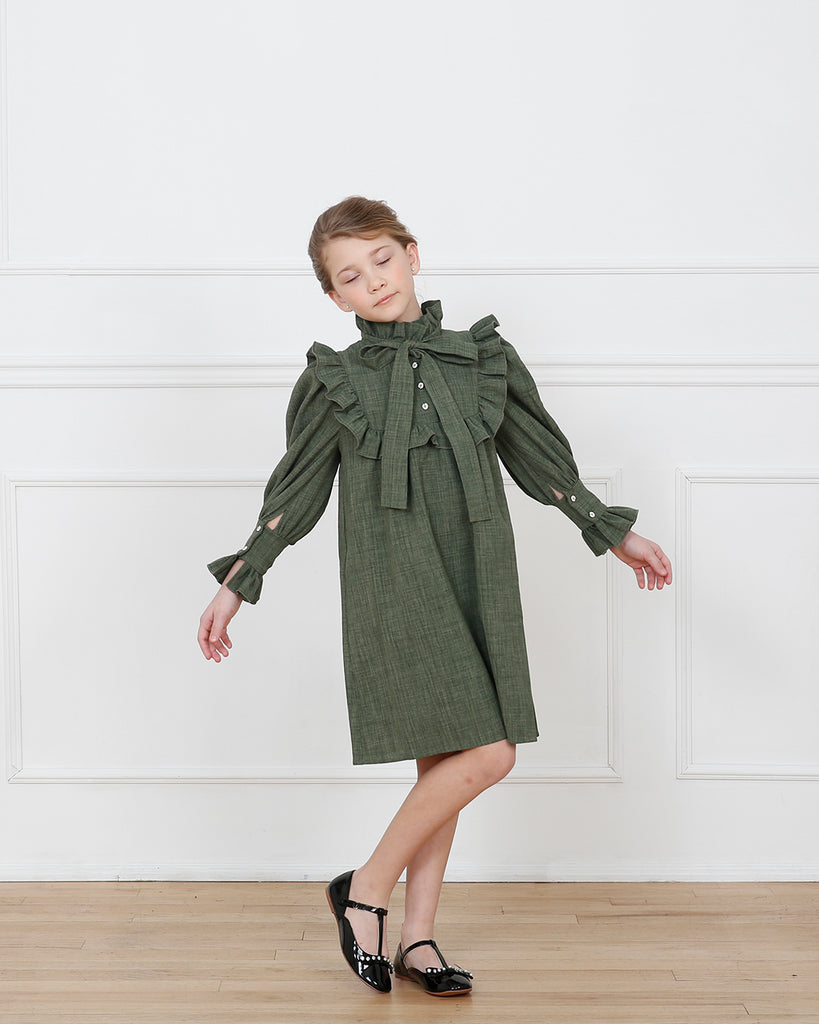 Brigitte dress (dusty green)
Your size is sold out?
Email info@aisabobo.com with your interested style(s) and size(s) and we will notify you when they become available!
Product Details:
Three Colourways: dusty pink, dusty green, dark sapphire blue
Dress Length: Midi length (please refer to the sizing charts for measurements)
Sleeve Length:

Long sleeves



Fit Info: Fits true to size in the respective age group.
For example, Aisabobo size 8 should fit well for an average measurements (height, chest, waist) 8-year-old in her age group.
Lined.
Unique and fresh daisy flower buttons symbolizing love, happiness and hope.
Button fastenings along front.
Fabric Content:
Poplin
Lining Fabric Characteristics:
Comfortable, light, soft, smooth, breathable and anti-transparency.
Excellent water absorption and diffusion, wrinkle resistance and shape stability, antistatic.
Care Instructions:
The materials used for this Aisabobo dress have been carefully selected. In order to preserve its beauty and quality over time, we recommend that customers read the below care instructions carefully (a simplified version can also be found on the care label sewn inside this dress) and take several precautions.
Place in a mesh bag prior to laundering is recommended.

Please use the least amount of mild liquid laundry detergent as necessary for cleaning.
Machine wash cold, gentle cycle. Wash with like colours. No bleach. No wring or soak. No tumble dry.
Dry flat or Hang to Dry.
Hand wash or dry clean is always a good option for a delicate dress with colour contrast details (i.e. black and white colour combination).
Iron cool when needed. Do not iron over zippers, buttons or any decorations.
Steaming is recommended for a better presentation.
Please store your Aisabobo dress in a cool, dry place, away from light and humidity.
Model & Sample Size in Brigitte dress (dusty pink):
Height: 48 inches / 122 cm
Chest: 22.5 inches / 57.2 cm
Waist: 22 inches / 56 cm
Sample Size Wearing: Aisabobo Size 8


Model & Sample Size in Brigitte dress (dusty green):
Height: 52.2 inches / 132.5 cm
Chest: 25.5 inches / 64.8 cm
Waist: 21.5 inches / 54.6 cm
Sample Size Wearing: Aisabobo Size 8
Model & Sample Size in Brigitte dress (dark sapphire blue):
Height: 52 inches / 132 cm
Sample Size Wearing: Aisabobo Size 8
Please let us help you find the right size:
If you are uncertain about the size kindly send an e-mail to info@aisabobo.com with your child's: 1) age, 2) height, 3) chest, and 4) waist measurements (How To Measure Your Child), we will be more than happy to help you pick a size that fits your needs. You will receive our reply within 24 hours.
* Measurements shown in the size guide refer to garment measurements and not measurements of the child.