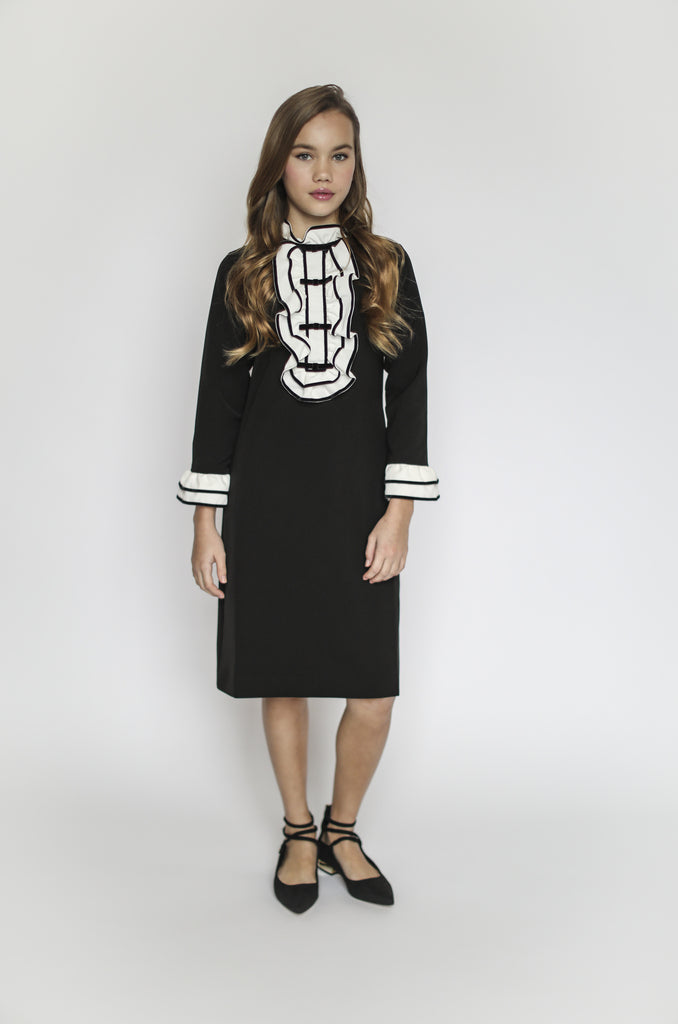 Antoinette ruffle bow dress (black)
Your size is sold out?
Email info@aisabobo.com with your interested style(s) and size(s) and we will notify you when they become available!
The Antoinette dress comes in three different colors (ivory, black and hunter green), features a line of black velvet bows on the front ruffled bib design, topped with a ruffled collar, full sleeves with ruffled cuff. Fully lined with invisible zipper on the back.
Shell: 95% Nylon, 5% Spandex
Trim:
97% Polyester, 3% Spandex
Lining: 100% Polyester
Care Instruction: Machine wash cold, gentle cycle. Wash with like colours. Dry flat. No bleach. No wring or soak. No tumble dry. Place in a mesh bag prior to laundering is recommended. Iron cool when needed. Or dry clean.
Model & Cloth Size in Antoinette (ivory):
Height: 51 inches / 129.54 cm
Chest: 24 inches / 60.96 cm
Waist: 23 inches / 58.42 cm
Cloth Size: Size 8
Model & Cloth Size in Antoinette (black):
Height: 60 inches / 152.4 cm
Chest: 28 inches / 71.12 cm
Waist: 23.25 inches / 59.06 cm
Cloth Size: Size 12
Model & Cloth Size in Antoinette (hunter green):
Height: 63.5 inches / 161.29 cm
Chest: 30 inches / 76.2 cm
Waist: 25 inches / 63.5 cm
Cloth Size: Size 14
Please let us help you find the right size:
If you are uncertain about the size kindly send an e-mail to info@aisabobo.com with your child's: 1) age, 2) height, 3) chest, and 4) waist measurements (How To Measure Your Child), we will be more than happy to help you pick a size that fits your needs. You will receive our reply within 24 hours.
* Measurements shown in the size guide refer to garment measurements and not measurements of the child.