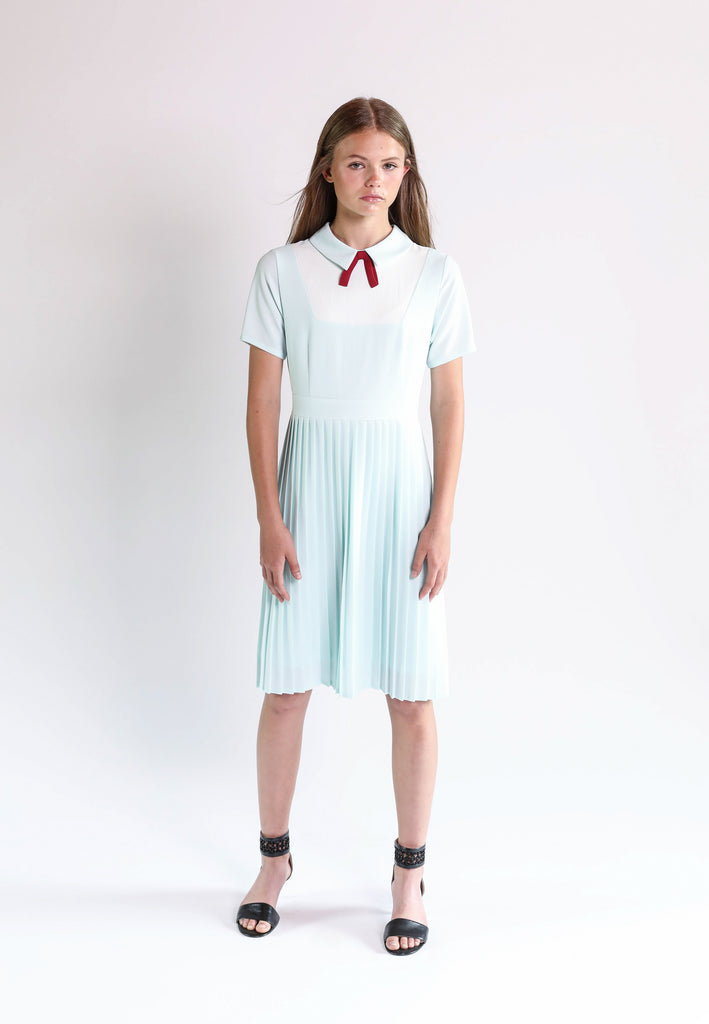 Adele dress (mint)
Your size is sold out?
Email info@aisabobo.com with your interested style(s) and size(s) and we will notify you when they become available!
Product Details:
Three Colorways: pink, light blue, mint
Short sleeved
Midi length (please refer to the sizing charts below for measurements)
Fits true to size in the respective age group
For example, Aisabobo size 8 should fit well for an average measurements (height, chest, waist) 8-year-old in his/her age group
Lined
Invisible back zipper closure
Collared with tie, pleated skirt
Fabric Content:
Lining: 100% Polyester
Care Instruction:
Machine wash cold, gentle cycle. Wash with like colours. Dry flat. No bleach. No wring or soak. No tumble dry. Place in a mesh bag prior to laundering is recommended. Steaming is recommended for better presentation. Iron cool when needed. Or dry clean.
Model & Sample

 

Size in Adele (pink):
Height: 45 inches / 114.3 cm
Chest: 20.5 inches / 52 cm
Waist: 19.7 inches / 50 cm
Sample Size Wearing: Aisabobo Size 6
Model &

 

Sample Size in Adele

 

(light blue):
Height: 61 inches / 155 cm
Chest: 31 inches / 78.7 cm
Waist: 24.5 inches / 62.2 cm
Sample Size Wearing: Aisabobo Size 14
Model &

 

Sample Size in Adele

 

(mint):
Height: 64 inches / 162.6 cm
Chest: 30 inches / 76 cm
Waist: 25 inches / 63.5 cm
Sample Size Wearing: Aisabobo Size 14
Please let us help you find the right size:
If you are uncertain about the size kindly send an e-mail to info@aisabobo.com with your child's: 1) age, 2) height, 3) chest, and 4) waist measurements (How To Measure Your Child), we will be more than happy to help you pick a size that fits your needs. You will receive our reply within 24 hours.
* Measurements shown in the size guide refer to garment measurements and not measurements of the child.